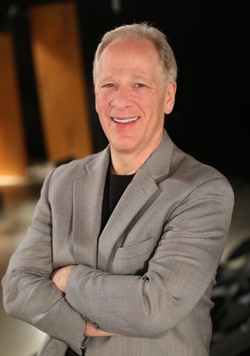 ---
Please contact a GDA agent for information.
---
Topics
Click on the topic name to see other speakers tagged with this topic.
---
Bill Stainton
29-Time Emmy Award Winning Hall of Fame Speaker on Innovation, Creativity, and Breakthrough Thinking
Bill Stainton, CSP, CPAE is a 29-time Emmy Award winner and a Hall of Fame keynote speaker. As the producer of the longest-running, highest-rated, and most award-winning comedy TV show in the United States, he led his innovative team to over 100 Emmy Awards of their own, and ten straight years of #1 ratings. Along the way, he worked with—and learned from—people like Jerry Seinfeld, Ellen DeGeneres, and Bill Nye the Science Guy.

He is passionate about demystifying innovation, and empowering innovation in everyone. His overriding message is that innovation is not just for the "gifted few." In fact, as Bill says, we are all the gifted few—and he proves it in every program.
Bill is the author of The Innovation Blueprint, The Executive Producer, and Lead Like the Beatles, has been cited in Forbes and The Wall Street Journal, and has been a regular columnist for Seattle Business magazine. He's written hundreds of articles on the topics of Innovation, Creativity, and Breakthrough Thinking. His TEDx Talk on the subject has been seen by over a quarter of a million people (and counting).
Professionally, Bill is a CSP (Certified Speaking Professional), the speaking industry's highest earned international measure of excellence. Fewer than 5% of professional speakers worldwide have achieved this designation. And in 2019, Bill was inducted into the Speaker Hall of Fame, joining fewer than 200 speakers in the world in this exclusive club.
All of this from a guy who grew up behind a dairy farm in the Amish countryside of Lancaster, Pennsylvania. A strange start, perhaps, for someone who then spent 20 years in television, rubbing shoulders with celebrities and rock stars (he's played drums with members of Nirvana, Pearl Jam, and the Who). But it all comes together on stage, where Bill brings his unique life experience to every customized program.
Bill is passionate about innovation and creative thinking. He has helped thousands of people in hundreds of organizations—like Microsoft, Boeing, Amazon, and Nike—generate breakthrough ideas by tapping into their own natural creativity and innovation.

On a personal note, Bill is also a pilot and a musician, although rarely at the same time.
---