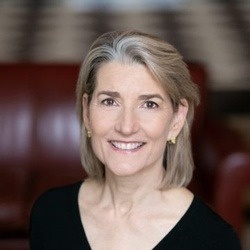 ---
Please contact a GDA agent for information.
---
Topics
Click on the topic name to see other speakers tagged with this topic.
Amy Edmondson
Featured
THE Authority on Psychological Safety and Team Learning in the Workplace; Best-selling Author, "The Fearless Organization"; Professor of Leadership and Management, Harvard Business School
At no other point in recent history has psychological safety been more important – not only in the workplace, but in every area of society due to the pandemic. Such an environment is requiring leaders across sectors to reconsider the rules and tools they apply when managing teams. As they work on strategies to successfully move business forward, they must also address the elevated concerns employees now have around physical safety, job security, mental health, family life and isolation. All of these pressing issues make the important work of Harvard Business School (HBS) Professor Amy Edmondson even more timely and relevant.
Edmondson, a renowned expert on organizational learning and leadership, has been studying psychological safety and workplace behaviors for over 20 years. During that time, her work has helped major firms vastly improve performance by building an environment of psychological safety, transparency and collaborative teaming, which ultimately leads to more effective operations, invested employees and a healthier bottom line. She shares a handful of representative case studies in her 2018 bestselling book, "The Fearless Organization."
As the Novartis Professor of Leadership and Management at HBS – a chair established to support the study of human interactions that lead to the creation of successful enterprises – Edmondson helps organizations identify barriers to success that are often hidden inside a workplace culture by ensuring people feel safe to speak up about problems they see and welcome to offer suggestions for doing things better, without fear of reprisal.
"Absent data on what's not working, it's all but impossible to know what to fix and how to fix it. No data, no progress," wrote Edmondson in a March, 2020 Harvard Business Review article. "It takes courage to choose transparency — and wisdom to know that the choice is the right one for achieving the goals that matter to all."
Over the years, Edmondson and her colleagues have conducted numerous studies showing the progress made at companies where problems were "placed firmly in bright sunlight" and highlighting the catastrophes that ensued when they were not. The results further confirmed that organizations that create paths for speaking up are more effective in dealing with challenges of every kind.
While any organization can be classified as a complex, error-prone system, Edmondson sees hospitals as particularly revealing case studies since activities move quickly and the stakes are high. One of her cases involved a hospital setting rife with finger pointing and blame that made it extremely difficult for anyone to speak up about mistakes and problems. Edmondson documents how a new COO worked to shift the culture by reframing the language around problems, changing words like "error" to "accident" and "investigation" to "study." This moved failure analyses from an exercise in "who did it?" to a neutral "what happened?" which, in turn, gave employees a comfort level with reporting problems and superiors the information they needed to address issues and make changes.
"When the bad news starts pouring in — whether reporting crimes in a city, medical errors in a hospital, or new patient cases in a pandemic — this actually means you've jumped over your first hurdle to success," says Edmondson. "With accurate information, people can turn their attention and skills to the challenges of developing novel solutions to the newly visible problems. Rather than living with false confidence that all is well, leaders and subject matter experts alike can instead get to work on what needs to be done."
And for those companies who believe everything is fine, Edmondson warns that may not be good enough, and certainly won't be five years from now.
"You can be part of a great organization that is still a complex, error-prone system," says Edmondson. "Leaders must assume around every corner is a potential problem or a chance to do something better. The idea is to flip thinking from 'we don't have a problem' to "how can we improve?"
Amy C. Edmondson is the Novartis Professor of Leadership and Management at the Harvard Business School. She studies teaming, psychological safety and organizational learning, and her articles have been published in numerous academic and management outlets, including Administrative Science Quarterly, Academy of Management Journal, Harvard Business Review and California Management Review. Her most recent book, "The Fearless Organization: Creating Psychological Safety in the Workplace for Learning, Innovation and Growth" (Wiley, 2019), offers a practical guide for organizations serious about success in the modern economy and has been translated into 11 languages.
Edmondson has been recognized by the biannual Thinkers50 global ranking of management thinkers since 2011, and most recently was ranked #3 in 2019; she also received that organization's Breakthrough Idea Award in 2019, and Talent Award in 2017. Her prior books – "Teaming: How Organizations Learn, Innovate and Compete in the Knowledge Economy" (Jossey-Bass, 2012), "Teaming to Innovate" (Jossey-Bass, 2013) and "Extreme Teaming" (Emerald, 2017) – explore teamwork in dynamic organizational environments. In "Building the Future: Big Teaming for Audacious Innovation" (Berrett-Koehler, 2016), she examines the challenges and opportunities of teaming across industries to build smart cities.
Edmondson received her PhD in organizational behavior, AM in psychology and AB in engineering and design from Harvard University. Before her academic career, she was Director of Research at Pecos River Learning Centers, where she worked on transformational change in large companies, and in the early 1980s, she worked as Chief Engineer for the legendary architect/inventor Buckminster Fuller.
---