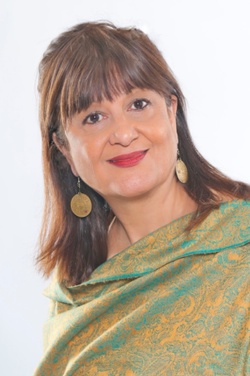 ---
Please contact a GDA agent for information.
---
Topics
Click on the topic name to see other speakers tagged with this topic.
---
AMBER CHAND
Leading with Grace and Authenticity in Uncertain Times.
Amber Chand is a global woman with a mission to inspire, support and encourage leaders to live from a place of enlivened authenticity and fearless imagination, especially as we face the potent challenges of our world today.
Today, she is recognized as a visionary voice for our times - an inspirational keynote speaker, gifted storyteller, insightful visionary coach and global entrepreneur.
Amber speaks as a woman who is a refugee having fled her country, Uganda, during the terrifying reign of tyrannical dictator Idi Amin, in 1972.
She has spent the past 3 decades as a global entrepreneur supporting thousands of artisan entrepreneurs living in vulnerable regions of the world. With her tireless committment to envisioning business as a force for positive change in the world, she has launched companies that have worked with war widows in Afghanistan, genocide survivors in Rwanda, refugees in Darfur and Palestinian and Israeli women - offering them the opportunity to prosper under extremely challenging economic and political situations.
In her keynotes, Amber explores the realm of authentic leadership - and what it means for leaders to lose ones way and find ones way. She guides her audiences into a powerful narrative that showcases the myriad styles of leadership in her personal life, whether through the brutal gaze of an African dictator, the misguided aspirations of her multi-million dollar company, or the voice of fearless resilience as it arises in a widow from the Rwandan genocide who created a remarkable path to reconciliation. Each a testament to the ways we can lose - and find - our way as leaders.
Amber mesmerizes her audiences with her eloquent skills as a gifted storyteller and her ability to speak about leadership using the power of evocative storytelling. Her presentations have been described as "riveting", "life changing", "inspirational.
Her multi media keynote presentations are unique and powerful as she leads her audience on a leadership journey that reflects courage, fierce vulnerability, grace and authenticity.
Amber's work has been widely recognized in the national media (including CNN, New York Times, Boston Globe, Herald Tribune, INC. Magazine, Marie Claire Magazine, Ms. Magazine).She has participated in The Wise Women Council at the World Bank, is a founding member of the Business Council for Peace, and today sits on the leadership advisory boards of the World Purpose Forum, Kosmos Magazine, Prosperity Candle, the Womens Peace Collection, and the Women's Collaborative for Creativity and Leadership.
---