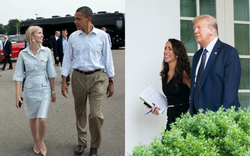 ---
Please contact a GDA agent for information.
---
Topics
Click on the topic name to see other speakers tagged with this topic.
Alyssa Farah & Johanna Maska
Two Women Who Have Helped Write Modern History Come Together to Bridge the Political Divide
ALYSSA FARAH served as White House Communications Director under President Donald J. Trump, Press Secretary to Vice President Mike Pence, and Department of Defense Press Secretary. She currently serves as a political and corporate communications strategist. Alyssa is also a Fellow with the Independent Women's Forum.
Farah served as the Press Secretary for the DOD and Deputy Assistant to the Secretary of Defense, the youngest person in history to serve as the top spokesperson for the Pentagon. She is also the only person to have held all three positions of WH Communications Director, Press Secretary to the Vice President, and DOD Press Secretary in one administration.
Following the January 6th attack on the Capitol, Farah was the first former senior White House official to condemn the attack and call on the President to do so as well, leading to a wave of Cabinet-level condemnations and resignations.
JOHANNA MASKA served as White House Director of Press Advance under President Barack Obama. She played a critical role from the early days of his presidential campaign until 2015.
In Maska's role as Director of Press Advance, she welcomed her son Hugh while running NATO and G8 arrangements. Seven weeks after she delivered him, she was in Afghanistan orchestrating President Obama's live address to the nation on the anniversary of Osama Bin Laden's death.
FARAH and MASKA are two women who have helped write modern history. They both…
Shaped the image and influence of the most recent Presidents of the United States;
Briefed and prepped the most powerful people in the world for pivotal moments;
Have the grace and guts to break from partisan politics and find solutions to have impact.
They've traveled the globe, flown aboard Air Force One, sprinted in heels to motorcades, conducted briefings in war zones.
Now together they discuss America's political divide, as seen from both sides of the spectrum, navigating the halls of power, and how to find common ground and move forward, candidly, honestly, and reflectively.
---