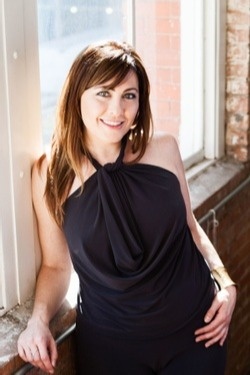 ---
Please contact a GDA agent for information.
---
Topics
Click on the topic name to see other speakers tagged with this topic.
Hear Abi's
Podcast Now
Abi Ferrin
Fashion Designer and Philanthropist
Abi Ferrin has a passion for empowering women and has been doing so through her eponymous clothing line for 14 years. As a fashion designer, she has had a perfect platform to inspire women, and as a philanthropist she created her company to support women while dressing them. From day one, Abi Ferrin has been committed to transparency in the manufacturing of her product. From her own in house Texas atelier where 50% of her product is created, to the outsourced manufacturers she selects, she personally ensures that the environments are clean and that happy people who are paid honest wages sew each garment that bears the Abi Ferrin label.
Shortly after leaving a 2 year relationship where she was the victim of domestic violence and credit card theft, she was introduced to the plight of trafficked individuals, and created the Freedom Project. The Freedom Project supports organizations that rescue, rehabilitate and inspire entrepreneurial opportunities and employment for former victims of trafficking and abusive employment. Every garment of clothing that is sold comes with an item that is made by one of these organizations, and most recently her entire cashmere collaboration was made under the Freedom Project umbrella.
Abi Ferrin sells her clothes to exclusive boutiques and resorts globally, and has received much recognition for her unique approach to design and entrepreneurialism by many including; Texas Top Designer by Stanley Korshak in 2007, Excellence in Design Award by DIFFA in 2009, the Featured Designer for the Super Bowl Fashion Show by the NFL Wives in 2009, inducted into the Vogue 120 in 2013, and most recently as the Champion of Human Rights Award from the Mosaic Family Services in October of 2014.
---